Music as entertainment for a private party
Are you holding a private event and looking for entertainment? Music for private parties is a great choice as music is festive and entertaining for people of all ages. However, there are some things to consider before booking a musician or band for your next party, and it can be difficult for most people to choose. We're here to help you book the best musical experience for your guests and you! Read more here! 
Fun entertainment for private party: book live music!
Wondering what the best entertainment would be for your upcoming party? As well as serving good food and drink, many people want to give their guests something extra - and what better way to get the party started than with a shared musical experience?
Live music for private events just adds to the party. A band or a musician as private entertainment brings your guests together and gives the whole event something extra. There's nothing more fun than partying together to great music in great company! Your guests will enjoy the music in their own way - some will be at the very front, others will experience it from a distance at a table, and a third group might let the music be a great background soundtrack to a great party.
Book the right musician or band for your party and you're guaranteed the right atmosphere. Limunt of course books the traditional party bands, the solo musicians, jazz musicians and much more. It's all about finding the music that best suits your event. It all depends on the party you're throwing. Many people get confused about what kind of music would be the best as entertainment for a private party. We can actually understand that, as the options are many. However, we have made it a lot easier by casting Scandinavia's most talented musical talents. Contact us for a no obligation quote!
Music for a private party - what are the options?
When you are faced with booking live music for a private party, you are faced with many options. You can book a single musician or a whole band? And which instruments to go for? And what about genre and playing style? It can almost feel like there are too many options. A rule of thumb is that, first and foremost, the music should match the kind of party you're planning. A christening requires a different kind of music than for a wedding. A private concert in the garden offers a different kind of music than Christmas party.
One thing you can take into account is of course your taste. Do you like party music? Do you like a little acoustic groovy music with for example guitar and sang? Are you more into jazz? Or maybe you're more into a solo musician, who plays piano or guitar?
Musician or band as private entertainment for a party?
You can book solo musicians, duos, trios and bands as entertainment for your party. The number of musicians you book will of course influence the music played. Some people choose a single musician for a private party, such as a pianist, a guitarist or a singer for their event. This type of client usually wants the music not to be the centre of the party, but just to contribute to the good atmosphere. A solo musician also takes up less space at the party itself, both in terms of the attention the musicians take but also physically in the room. The placement of a solo musician is therefore typically more flexible - and typically the musician requires very little space.
Duo and trio are a good compromise between the solo musician and the band, as a small group of musicians can still play a lot of music together. In Limunt we usually say that two musicians are more than twice as good as one. Three musicians are more than three times as good as one and so on, why do we think that? Well because the interplay, the groove and the feeling that several musicians create together is not just the product of two individual musicians, but a kind of musical 'conversation' between two professional artists. 
If you want music for a private party that can be danced to, we always recommend that you book a band - preferably of at least 4 people. That way you get a lead singer, a guitarist, a bassist and of course a drummer. You also have the option to upgrade with a pianist, saxophonist and other instruments that will take the music way beyond the stage edge.
Top 10 songs for birthday
Celebration - Kool & The Gang
Forever Young - Rod Stewart
Happy - Pharell Williams
Happy Birthday - Stevie Wonder
Isn't she lovely - Stevie Wonder
When I'm 64 - The Beatles
When We Were Young - Adele
You are the sunshine of my life - Stevie Wonder
You've got a friend - Carole King
Your Song - Elton John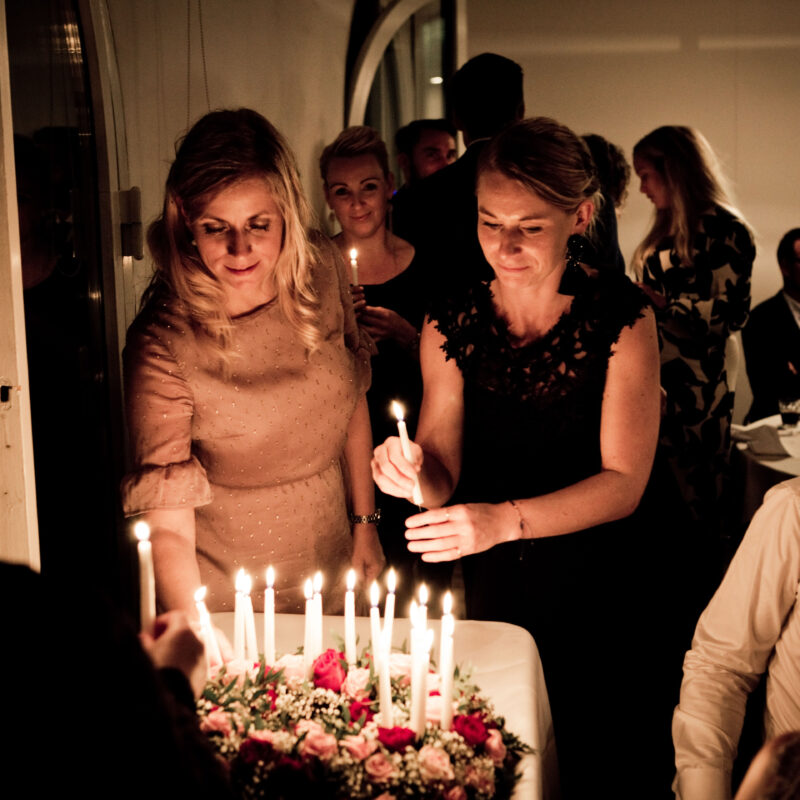 Read more about music for private parties
Give your guests or your special someone a treat and book a musical performance for the next big private anniversary. Limunt provides music for hundreds of private events every year! Have an unforgettable party by booking for example a great party band, a lounge trio or a solo musician.
In Limunt we provide music for everything from christening, confirmations, weddingsprivate Christmas parties, birthdays and much more. We have a dialogue with each individual about the event they are holding and their wishes and requirements for the music. For some, the music just needs to be in the background and ensure a good atmosphere. Others book a musician for a private party to play between one and three songs - like a small mini-concert. Some are sure it should be music you can dance to - but are unsure of the genre and what type bandthat best suits them. A professional booking agency can help with all that. In Limunt we take it a step further: from our catalogue of more than 500 musicians we match the right ones for your party. 
What our live music for private parties has in common is that our musicians and bands organise the set list to suit your upcoming event. It requires a certain level of each musician to be adaptable, checked and professional.
A warm recommendation
Limunt provided superb entertainment for my 50th birthday, before and during dinner. Throughout, the communication was professional and good, and I can highly recommend Limunt to others who need to find the right live music.
A great experience for us and our guests
We had Jazzkollektivet play for our 2 x 40th birthday. It was eminent! We will definitely consider them for our next big party. Thank you so much for helping to make this party a great experience for us and our 60 guests.
Surprise concert for birthday
The jazz collective came and created a fantastic atmosphere at my wife's birthday party in Frederiksberg Garden. Insanely talented musicians and singer. They will be a regular feature at our parties in the future!
Get successful: book live music for private party through Limunt
If you want to be sure to make the right music booking and have a successful event, we recommend that you book the music through a professional booking agency like Limunt. We create the good dialogue with you, listen to your wishes for the live music and match the right musicians for your event. We have musicians who play with well-known Danish musicians on big stages and festivals all over the country. You won't find these artists anywhere else. Our large network of talent ensures that we can make the right bookings every time. We are aware of the great responsibility that rests on our shoulders. Every event is unique and requires the right live music. 
Booking music for a wedding? We offer both party bands, romantic jazz, solo singer for the wedding, classical music for the reception and much more. Read more about what we offer for wedding here.
Book music for birthday? We provide the right music for your upcoming birthday! A band that kicks the party off, a little delicious music during dinner or a solo musiciansinging your favorite song? There are many possibilities! 
Click here to see an overview of all the music we offer.
Tell us about your upcoming event! We'll tailor a musical solution that's just right for your upcoming event.
Make sure you make the right booking and choose Limunt as your partner. After all, as we all know, the party can't be undone.
Contact Limunt by phone +45 40 71 14 57via mail info@limunt.com or directly on this page. 
What is the price of live music for a private party?
Many of our customers ask how much it costs to book live music. A lot of factors come into play such as the number of musicians, playing time, transport, time, date, schedule and much more. Below you can see where Limunt's prices start from, as well as find answers to the most frequently asked questions.
How far in advance is it recommended to book music?
It is recommended to book as early as possible if you have a very specific request for the music. This gives you the opportunity to consider the various options. We often get requests for music several years in the future. However, due to our large roster of musicians, we are also able to handle many last-minute requests with a few days' notice. Contact us for a no obligation quote today!
How much is live music for private events?
For a single musician we recommend at least 2 x 2 meters, for a band we recommend at least 3 x 4 meters. Remember to have an electrical outlet nearby and a roof if the event is held outdoors.
Get help booking the right music!
Choosing the best music for your upcoming event can be difficult, as several factors come into play. Reach out to our team of experts who are on the phone to give you no-obligation advice. Tell us about your event - and we'll tailor a musical solution that's just right for you!
Get help booking the right music!
Choosing the best music for your upcoming event can be difficult, as several factors come into play. Reach out to our team of experts who are on the phone to give you no-obligation advice. Tell us about your event - and we'll tailor a musical solution that's just right for you!

How does it work?
1
Contact us
Tell us about your event, your wishes for the music and other relevant info.
2
Offer & Contract
You receive an offer. If you are satisfied, we choose the perfect musicians for your party and ask you to approve a contract.
3
The music is playing!
Everything is in place! Relax and enjoy the great music at your party!
The professional choice for live music
Tell us about your event. We'll do all the legwork and create the right music solution for you.
Only handpicked musicians
Book the biggest Scandinavian talents through us. At Limunt we have carefully selected our more than 500 musicians.
Personal service
You will be matched with one of our booking agents, who will guide you safely through the process.
Substitute in case of illness
We create security. In case of illness among the musicians, we always provide a replacement.
1000+ bookings
We've done it before. We're experts at matching the right musicians to each event. We have 15+ years of experience in the industry.
We support talents
We have handpicked the best Scandinavian musicians. Book live music and help support the great talent.